Sound Artist, Musiker und Engineer Jonáš Gruska von LOM Instruments aus der Slowakei entwickelte mit den Uši Mikrofonen seine eigenen, speziell fürs Field Recording optimierten Mikrofone.
Uši /uʃɪ:/ – Das Mikrofonset aus Bratislava
Das Set mit dem ungewöhnlichen Namen "Uši /uʃɪ:/" ist ein aufeinander abgestimmtes Stereo-Paar qualitativ hochwertiger omnidirektionaler (Kugel- Richtcharakteristik) Elektret-Mikrofonen. Verglichen mit den in Rekordern regulär eingebauten Mikrofonen, besitzen die Uši ein außergewöhnlich niedriges Grundrauschen, sowie hohe Empfindlichkeit. Sie eigenen sich dadurch besonders für die Aufzeichnung filigraner Klänge und Umgebungen.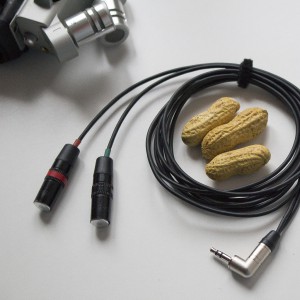 Sie funktionieren "out of the box" sowohl mit allen portablen Rekordern mit einem Mikrofoneingang ("Mic In"), die Plug-In Power liefern (Zoom, Tascam, Olympus, etc.), als auch mit DSLRs mit Mikrofoneingang. Dazu wurden die Mikros mit einem 1,5m langem Kabel samt passendem Miniklinke-Stecker versehen.
Für die Verbindung mit XLR-Eingängen mit Phantomspeisung bietet LOM Instruments einen speziellen Adapter an: https://zvukolom.org/product/usi-phantom-adapter/
FieldRecording.de wird die Mikrofone demnächst exklusiv testen!
VIDEO
Technische Daten
Matched stereo pair of pre-polarized condenser microphones
Cable: 1,5 m (for each mic) with 3.5mm (1/8″) jack
Maximum input pressure level: ~122 dB SPL
Sensitivity: -28 (± 3dB) dB at 1kHz
Self-noise: 17 dBA
Testaufnahmen hergestellt mit den Uši Mikrofonen
Preise & Verfügbarkeit
Ein Set "Uši /uʃɪ:/" ist ab sofort im Onlineshop von Jonáš für nur 99,- EUR zzgl. Versandkosten erhältlich. Der XLR-Adapter kostet 35,- EUR. Derzeit befinden sich die Mikrofone in einer sog. Pre-Order Phase bis 1. April, die Auslieferung erfolgt nach Fertigstellung ab dem 28. April. Bei Rückfragen steht Jonáš zur Verfügung.
Link
LOM Instruments https://zvukolom.org